Silicone Ferrule Gasket For 1.5″ Tri-Clover sanitary fittings (C3587X20)
Premium quality Ferrule gasket provides leak-proof Tri-clamp connections. Made of flexible and durable rubber, this TC gasket comes in white colour. Also, Make sure to position the ring correctly between the two ferrules before locking the clamp.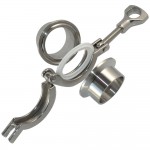 1.5″ size is the most common brewery pipe fitting size.
Also, These silicone gaskets are made from food-grade silicone material.
Silicone tri- clover gasket seal  are suitable for wide working temperature
So, the silicone material is known for very low leaching properties.
Also, Tri-clamp fittings provide sanitary brewing connections.
Acid Resistance: Good
Alkali Resistance: Poor
Petroleum Oil Resistance: Good
Vegetable Oil Resistance: Good
Abrasion Resistance: Excellent
Compression Resistance: Excellent
Ethanol less than 15%: Good
FYI – The ethanol content of beer usually varies between 3% and 9%  alcohol by volume. source – Sciencedirect.com
Category: brewery hose and fittings
Style: Tri-Clamp
Most economic
High Chemical , Acid Resistance
Easy to use and connect and ensures that there are no leaks
Also, Gasket Size For 1.5 Inch Tri-Clamp Fittings
Makes the connection tight and preve
Popular application for all standard size Tri-clover
Perfect for tri clover brewery fitting of 1/2 inch, diameter anywhere in the system.
Applicable for all standard size tri-clover or tri-clamp and tube fittings
Also, It is a self-lubricating that offers the lowest coefficient of friction with most material
Also Option available: Tri-Clamp Gasket